Click to Call
About Homestay
...An Experience to Cherish
Nestled amidst lush green coffee plantations & comfortably located at approximately 25 Kilometers from the lovely Chikmagalur city, KalyancoolHomestay is a perfect getaway from the cacophony of city life. At an elevation of 3,400 feet above the mean sea level, the air is fresh and clean. The daily din of engines revving & incessant honking is swapped by the pleasant sound of chirping by variety of birds all day long & the sound of Jewel Bug (Jeerunde) in the night. 
The accommodation in Kalyan Cool Homestay is aesthetically designed with abundance of windows giving a good view of the surrounding lush green coffee plantation. 
We realize that our guests need more than serene surroundings & comfortable accommodation, so we invite you to discover the many local Malnaddelicacies of both vegetarian and non-vegetarian prepared with organic and local ingredients & served with the best of hospitality from the hosts at Kalyan Cool Homestay. 
With a number of picturesque day outing spots aroundthe Kalyan Cool Homestay, we would be delighted to help you plan your itinerary to give you the best experience out of your vacation. 
Kalyan Cool Homestay is located inside Coffee estate of 30 acres. Malenadu food which will be served to our guests will be home made in local styles.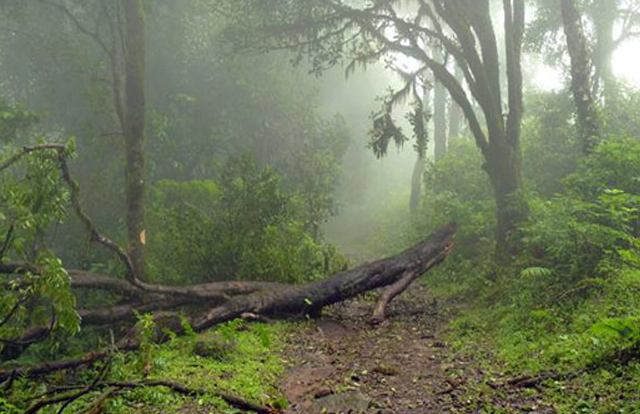 Click to Call
About Chikmagalur
Chikmagalur is a city at the foot of highest mountain range in Karnataka.
The district is a great attraction to all kinds of people - trekkers, pilgrims, travellers, tourists, research enthusiasts. The beautiful waterfalls of Kalhatagiri, Hebbe, Shanti, Manikyadhara, Sirimane and many more seasonal waterfalls have won the hearts of travellers. The Muthodi and Bhadra forests provide habitat to various species of birds and animals and attract tourists. Sringeri, Horanadu, Kalasa, Balehonnur are the famous holy places.
Coffee was first cultivated in India in Chikmagalur. The mountains in Chikmagalur which are a part of the Western Ghats are the source of rivers like Tunga and Bhadra. Mullayanagiri, which is the highest peak in Karnataka is located in the district. It is also a tourist's paradise containing hill stations like Kemmanagundi and Kudremukh and waterfalls like Manikyadhara, Hebbe, Kallathigiri. Chikmagalur district has a rich history as is seen in the Hoysala temple at Amrithapura. Wildlife enthusiasts would be interested in the Kudremukh National Park and Bhadra Wildlife Sanctuary present in this district.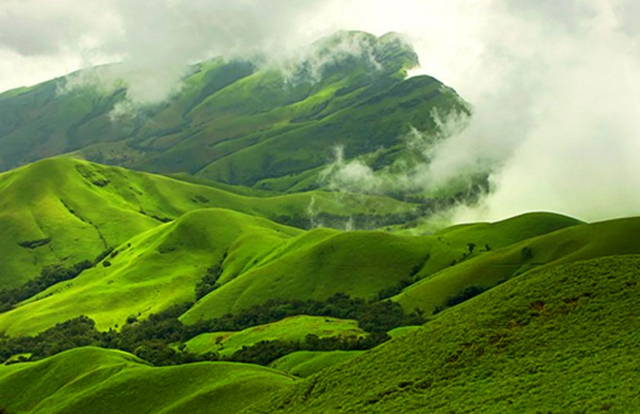 Tourist Spots
Hill Stations
Kemmangundi: 55 kilometres (34 mi) north from Chikmagalur town is Kemmangundi. Lingadahalli is the junction point to go for Kemmangundi, a scenic hill station on the Baba Budan Giri range of hills. Kemmangundi is also known as K.R. Hills after the Wodeyar King, Krishnaraja Wodeyar, who had made it his favourite summer camp. Kemmangundi, at a height of 1,434 meters, is surrounded by thick forests and a salubrious climate throughout the year. It is surrounded by the Baba Budan Giri range and blessed with silver cascades of mountain streams and lush vegetation. Its beautifully laid out ornamental gardens and enchanting mountain and valley views are a treat to the eye. Spectacular sunsets are a must see from various locations in the district, even from the Raj Bhavan. For the adventurous, Kemmangundi offers many peaks to scale and intricate jungle paths to explore. This place has a beautiful rose garden and other attractions. There is a place called Z-point at about 500 metres from this main place which gives a nice aerial view of the Shola grass lands of the Western Ghats.




Kudremukh and Kudremukh National Park: 95 km southwest of Chikmagalur town is Kudremukh range (in Kannada Kudure = horse and mukha = face), so named because of the unique shape of the Kudremukh peak. Overlooking the Arabian Sea, the broad hills are chained to one another with deep valley & steep precipices. Situated at 1,894.3 meters above sea level, Kudremukh is rich in iron ore deposits. The Kudremukh Iron Ore Company conducts mining operations, benefaction and transportation of the ore as slurry through pipelines to the port at Panambur near Mangalore.




Mullayanagiri: Mullayanagiri is part of the Baba Budan Giri Hill Ranges here. It stands 1930 meters tall and is the tallest peak in Karnataka. Its height is famous mostly for watching sunsets from. It is 16 km from Chikmagalur town. Driving to Mullayanagiri is worth taking a risk. On the way is Sitalayanagiri where the water in the Shiva temple neither increases nor decreases. Driving to the peak is not possible and includes a trek up the hill from the halfway point. There is a temple on top of the hill. From the topmost point of the hill the Arabian Sea is visible on clear days. The small hillock in the temple compound is the highest point in Karnataka. Datta Peeta also known as Baba Budan Giri: To the north of Chikmagalur town is the Baba Budan Giri Range or Chandra Drona Parvatha as it was known in the ancient times, which has one of the highest mountain peaks between the Himalayas and the Nilgiris. The peak takes its name from the Muslim saint, Baba Budan, who resided here more than 150 years ago.




Deviramma Betta and Temple - Deviramma is a popular deity in the region. Many Deiviramma temples are present in the region. The one present on the peak of Deviramma hill close to Baba Budan Giri is popular. Devirammana Betta is one of the three major hills in the range. The Hill is very steep and pointed. Temple is open only on the first day of Diwali festival time. Laks of people trek to this temple [Access point may vary!]. At Bindiga, a new temple of Deviramma is built, which is located at the foothill, 18 km north of Chikmagalur town, easily accessed by car. This temple is nice and location is serene with a background of three majestic peaks of western ghats, viz., Mullayanagiri, Baba Budan giri and Deviramma hills.



Waterfalls & Lakes
Manikyadhara Falls is a waterfall near the famous pilgrim centre Baba Budan Giri Dattatreya Peetha where water spills down like small pearls giving the visitors a memorable shower bath.

Kallathigiri Falls: Just 10 km from Kemmangundi is Kallahathigiri falls. Water cascades down from the top of the Chandra Drona hill from a height of 122 meters amidst fascinating scenery. There is an old Veerabhadra temple dedicated to Lord Shiva, constructed in a gap between rocks. This temple can be approached after crossing the waterfall.

Hebbe Falls: This beautiful waterfall is over 10 km from the famous hill station, Kemmangundi. Here water streams down from a height of 168 meters in two stages to form Dodda Hebbe (Big Falls) and Chikka Hebbe (Small Falls).

Shanti Falls: This is a beautiful waterfall on the way to Z-Point in Kemmangundi.

Hanumana Gundi Falls: Located 32 km (20 mi) from Kalasa and 79 km (49 mi) from Mangalore.

Kadambi Falls: This is a waterfall located in the Kudremukh National Park.

Sirimane Falls: This is a waterfall located about 14 km from Sringeri town.

Hirekolale lake:Near Chikmagalur town.

Ayyenkere lake: Located 20 km from Chikmagalur.

Sagir Ahmed/Dabdabe Falls: This waterfall is located on the way to Bababudangiri.
Other Points of Interest
Rathnagiri Bore, Chikmagalur [garden area in the northern suburban area]

Coffee Museum - located in Dasarahalli, Chikmagalur
Wildlife
Bhadra Wildlife Sanctuary: Occupying 495 km². of Wildlife Sanctuary and Project Tiger Reserve, this region is an important watershed of the Tungabhadra river. The huge reservoir here is the main water supply to several districts in the rain shadow regions of south Karnataka.

Kudremukh National Park: The Kudremukh National Park (latitudinal range 13°01'00" to 13°29'17" N, longitudinal range 75°00'55' to 75°25'00" E) is the largest declared Wildlife Protected Area (600 km²) of a tropical wet evergreen type of forest in the Western Ghats. The Western Ghats is one of the twenty-five hot spots identified for bio-diversity conservation in the world. Kudremukh National Park comes under the Global Tiger Conservation Priority-I, under the format developed jointly by Wildlife Conservation Society (WCS).
Kalyan Cool Homestay which is located at ideal distance from all visiting places, looks forward to provide best possible experience to guests visiting us.
Homestay Gallery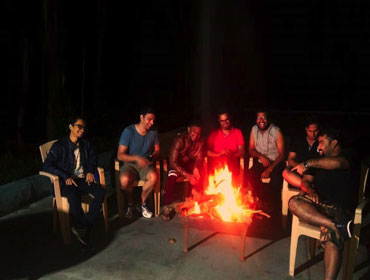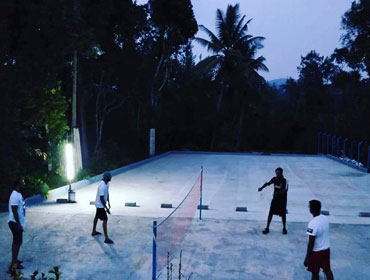 In & Around
Mullayanagiri hill
The peak gets its name from a small temple (gadduge/tomb) at the summit, which is dedicated to a Tapasvi "Mulappa swamy" who, is believed to have meditated at the caves only a couple of feet below the summit. The caves are accessible and not very deep, they have a direct entrance to the garbagudi of the temple, which is now blocked by the temple priests.
Baba Budangiri
The main peaks in this range are the Mullayanagiri and Baba Budangiri (height 1895 m). Collectively, these peaks are known as Chandradrona Parvatha Shreni (Chandradrona Mountain Range) as they naturally form the shape of a crescent moon. Mullayanagiri (also spelt Mullayangiri or Mullainagiri) is the highest peak in the Baba Budangiri range.
Kallathigiri Falls
Just 10 km's away from Kemmangundi is Kallahathigiri Falls, also known as Kalahasti falls. Water cascades down from the top of the Chandra Drona hill from a height of 122 meters amidst fascinating scenery.
Agumbe
80 Kms Agumbe is an angelic hamlet located on the top of Someshwara Ghats. It is situated between two beautiful districts Shimoga and Dakshin Kannada of Karnataka at an altitude of 2710 meters from sea level.. The dazzling place is blessed with immense forest and snow-capped high lands teemed with sublime climate.
Bandaje Falls
Bandaje falls is located in the Charmadi Ghat, a part of Western Ghats. This fall is favorite among the trekkers as it is the junction for several trekking routes.
Horanadu / Kalasa
15 Km's It is the major tourist attraction in the state of Karnataka. It is holy town and flocked by huge number of devotees and visitors throughout the year. The land of temples is located in the district of Chikmagalur. There are plenty of sacred shrines are located throughout Horanadu.