Click to Call
Swimming Pool Resort in Chikmagalur
Homestays in Chikmagalur with Swimming Pool
Greenery is the only thing that protects life of living being on the earth and the definition of nature is justified by India. If there were no trees, mountains, oceans, rivers than there were no living beings on earth. When it comes to nature there is nothing better than Indian village that truly showcase the beauty of nature. To encourage the eternal beauty of our world we welcome you in Kalyancool Homestay that is a Swimming Pool Resort in Chikmagalur. It is a small effort of us to make our clients realize how beautiful our surrounding is. Kalyancool Homestay will help you to come out from the hustle bustle of city and relax in the arms of our mother nature.

Get ready to enjoy your holidays in the surrounding of fresh air and chirping of birds and have a short break from you busy schedule. Go wild and just jump into the swimming pool, relive your childhood days once more by playing lagori, gilli danda, flying kites and spinning tops. Experience the daily life of the locals and make a quirky life after listening the stories behind the narrow path.

We serve you the delicious traditional Karnataka cuisines and conduct some outdoor activities for your more enjoyment. Not only have that for our quality services and various facilities we are renowned as bested Homestays in Chikmagalur with Swimming Pool.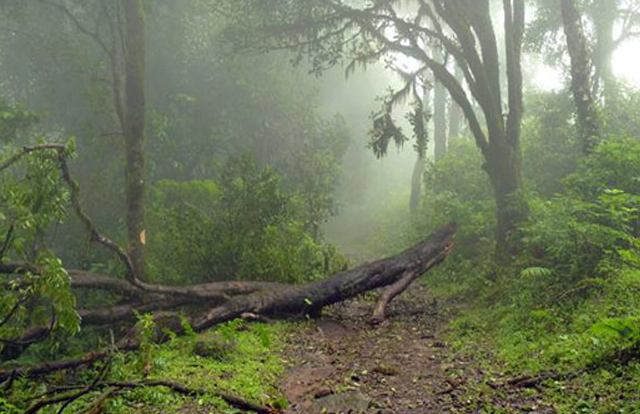 Click to Call
About Chikmagalur
Chikmagalur is a city at the foot of highest mountain range in Karnataka.
The district is a great attraction to all kinds of people - trekkers, pilgrims, travellers, tourists, research enthusiasts. The beautiful waterfalls of Kalhatagiri, Hebbe, Shanti, Manikyadhara, Sirimane and many more seasonal waterfalls have won the hearts of travellers. The Muthodi and Bhadra forests provide habitat to various species of birds and animals and attract tourists. Sringeri, Horanadu, Kalasa, Balehonnur are the famous holy places.
Coffee was first cultivated in India in Chikmagalur. The mountains in Chikmagalur which are a part of the Western Ghats are the source of rivers like Tunga and Bhadra. Mullayanagiri, which is the highest peak in Karnataka is located in the district. It is also a tourist's paradise containing hill stations like Kemmanagundi and Kudremukh and waterfalls like Manikyadhara, Hebbe, Kallathigiri. Chikmagalur district has a rich history as is seen in the Hoysala temple at Amrithapura. Wildlife enthusiasts would be interested in the Kudremukh National Park and Bhadra Wildlife Sanctuary present in this district.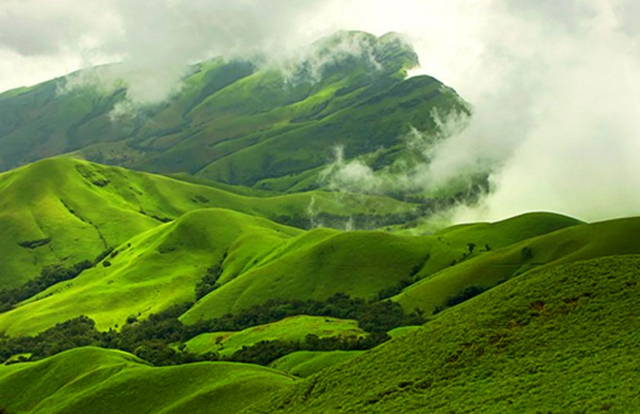 Homestay Gallery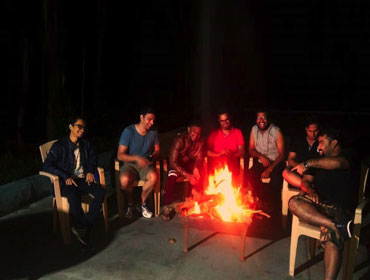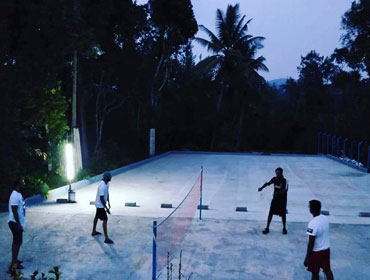 In & Around
Mullayanagiri hill
The peak gets its name from a small temple (gadduge/tomb) at the summit, which is dedicated to a Tapasvi "Mulappa swamy" who, is believed to have meditated at the caves only a couple of feet below the summit. The caves are accessible and not very deep, they have a direct entrance to the garbagudi of the temple, which is now blocked by the temple priests.
Baba Budangiri
The main peaks in this range are the Mullayanagiri and Baba Budangiri (height 1895 m). Collectively, these peaks are known as Chandradrona Parvatha Shreni (Chandradrona Mountain Range) as they naturally form the shape of a crescent moon. Mullayanagiri (also spelt Mullayangiri or Mullainagiri) is the highest peak in the Baba Budangiri range.
Kallathigiri Falls
Just 10 km's away from Kemmangundi is Kallahathigiri Falls, also known as Kalahasti falls. Water cascades down from the top of the Chandra Drona hill from a height of 122 meters amidst fascinating scenery.
Agumbe
80 Kms Agumbe is an angelic hamlet located on the top of Someshwara Ghats. It is situated between two beautiful districts Shimoga and Dakshin Kannada of Karnataka at an altitude of 2710 meters from sea level.. The dazzling place is blessed with immense forest and snow-capped high lands teemed with sublime climate.
Bandaje Falls
Bandaje falls is located in the Charmadi Ghat, a part of Western Ghats. This fall is favorite among the trekkers as it is the junction for several trekking routes.
Horanadu / Kalasa
15 Km's It is the major tourist attraction in the state of Karnataka. It is holy town and flocked by huge number of devotees and visitors throughout the year. The land of temples is located in the district of Chikmagalur. There are plenty of sacred shrines are located throughout Horanadu.